In my studies at Meredith Manor we spent A LOT of time perfecting ground work. Ground control Precedes Horse Control was drilled into my head time and time again. Heeding became an essential part of every minute of every day at "Horse School". Whether it be filling a water bucket, grooming a training baby, walking a horse to its stall, I learned that every move I made had significance to the horse.
So what is Heeding and why do you care? Heeding is a method of training emphasizing ground work and communication through body language. Heeding is defined as methodically applied, horse-logical pressures to enable the horse to feel the shape we want him to take. In essence you use your body language to create a feeling in the horse of where you want him to move. As the horse's understanding increases, the handler can not only change the direction of the horses strides but also their length, speed and cadence. It is simple to describe but a bit harder to master. Here are the beginning steps
We start by bringing the horse into a small ring or paddock. A round pen is not necessary, however a smaller area confines the horse in way that is understandable him. This also minimizes distractions and making it easier to get the horse's attention.
You start out by turning the horse loose in the ring and letting him play. Do not direct him. Let him run, trot, kick imaginary horse monsters, buck with exuberance, whatever he wants to do. At first you do not direct where the horse goes. Now envision an invisible line from your shoulder to the horses shoulder. Slowly (NO running or chasing!) begin to follow your horse slightly behind that line.
Following from a distance behind the shoulder is a small pressure that will encourage your horse to move forward. The environment should be relaxed and quiet. Your goal is to keep his attention while he moves with out any big commotion or noises. However, you don't want him stopping to eat grass or running to the gate to call for his buddies. If he does this, or ideally right before you think he will, make a small sound or tap your thigh, whatever gets his attention back to you.
Eventually when the horse has had his fun and lost interest in kicking imaginary horses and running about he will stop and look at you. When he does this, you stand absolutely still and quiet. Try to avoid staring him down or anything that could be perceived as predatory. Just stand, breath and wait. Ideally he will begin to walk toward you. If this happens don't rush to catch him. Wait until he comes up to you, then slowly walk towards his shoulder. Turn your body to face the horses shoulder. Reach up slowly and pet the withers or where ever your horse enjoys a good scratch.
Continue grooming in this relaxed manner for a minute or two keeping your horses attention. Now turn your shoulders back to forward position, still standing next to the horses shoulder. Take a step forward and see if the horse will follow. As you move your foot forward he should take a step with you. Stopping when you stop and going forward when you go forward. If he doesn't the first time don't be discouraged. Take him back to his stall and try again tomorrow.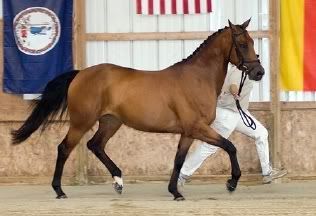 You can slowly build on and refine these steps to eventually lead, turn, stop, back and stand wherever you decide. Heeding your horse will improve every aspect of work with your horse on the ground and in the saddle. Remember that you are always training your horse,whether you know it or not.